LITTLE ROCKERS will offer several different camp experiences for kids in Summer 2020:
Little Rockers Clubhouse – Morning Music Camp – Kids come to us at one of our Little Rockers Music & Arts Play Centers in Shrewsbury and Manalapan for ages 3-6 years. Music, Movement, Playtime and snack
ICONIC Rockers – Intensive day long camp where kids learn to produce a song, choreograph a dance routine, shoot and edit a video and perform it all live on stage. Ages 10 and up only
Little Rockers – Duo Camp Concert – Chris & Jessie come to you and perform an interactive rock concert at your day camp or school for ages 2-7 years
Little Rockers Band – Camp Showtime – The whole band comes to you and does a day long music workshop with campers ages 6-12 years. Groups pick a song and then rehearse and perform it with a live band for an end of the day showcase concert.
Little Rockers Clubhouse – Morning Music Camp
    
Monday through Friday – register for one to five days
3 hour camp from 9:00am to 12:00pm
Activities include: Music class, Karaoke dance party, Music arts & crafts, movies, yoga, imagination games and movement, free play in our play area & snack time
Slightly different program each day
Weekly theme days (Frozen, Moana, Yellow Submarine, Beach Day, Trolls, etc) Where all the activities and crafts are themed for the day.
Snacks provided (GF pretzels, Pirate Booty, Apple Slices, Baby Carrots, Veggie straws, S'mores, Juice boxes, water)
Appropriate for ages 3 to 7 years
$40 per day, 5 days for $200, 2 or more weeks for $175 each
15 kids max each day
Camp Concert – Little Rockers Duo Show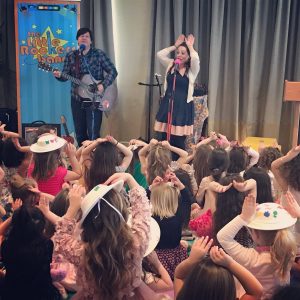 Little Rockers specializes in fun, interactive music programs and we have an option to fit any size group or class.
Our shows are energetic and engaging and get all the kids moving and dancing, counting, singing and playing along with the band.
We come to your camp or school with enough sticks, eggs, tambourines, drums, and other age appropriate instruments to share with all the kids during the shows.
30 to 45 minute rock concert
Appropriate for ages 2 to 7 years
$300 and up based on the show length, group size and travel
Little Rockers Band – Camp Showtime
The whole band does a day long music workshop with campers ages 6-12 years, with a full on rock concert for the whole camp at the end of the day
We come with a 4 piece band of drums, bass, keyboards, electric guitar plus a singer to lead the kids a sound man to put it all together into an unforgettable concert experience
Each age group picks a song from our list and practices the lyrics with their counselors for several weeks leading up to the band's visit
On the day of, the band rehearses with each group for 20-30 minutes to get the kids comfortable singing with the group
The day long workshop is approximately 6-7 hours including rehearsal with each group and the concert finale
Appropriate for ages 6 to 12 years
$2400 and up, plus travel
ICONIC Rockers – Music & Dance Camp
This brand new, unique camp experience takes place at our Manalapan Music & Dance Complex
One week, full day camp 12-6pm, Monday-Friday
Ages 10-18 years
Campers will produce a song, choreograph a dance number, plan, shoot and edit a music video and perform the routine live on stage on the last day of the camp