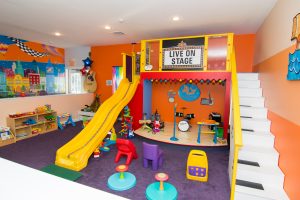 YOU COME TO US
LITTLE ROCKERS CLUBHOUSE PARTY & PLAY at 
Shrewsbury or Manalapan
We've got you covered!
When you have a party at Little Rockers, we do it all: We set-up, decorate, entertain the kids with play and music activities and keep a great flow going the whole time. And best of all, no clean up for you! Seriously, it's like having a party at home but you don't have to do ANYTHING but relax and enjoy your friends and family, guaranteed.
Party Times: Saturday & Sunday
11:00am – 12:30pm
1:30pm – 3:30pm
4:00pm – 6:00pm
Weekday parties available 1:00-3:00pm
*Select a party option, start time and party length and you're on your way to a fun, stress free birthday celebration for your child in one of the coolest new party spaces around, The Little Rockers Clubhouse! 
ALL CLUBHOUSE PARTIES INCLUDE:
PRIVATE access to the play center for the entire time booked for you and your guests
PLAY-TIME in the Little Rockers Clubhouse with our one of a kind stage, loft and slide, interactive music toys, games and books
MUSIC – It's what we're all about! A Birthday Concert or Karaoke Dance Party
CAFE-TIME – Plenty of time for food and cake, which we will supervise and direct
FOOD & DRINKS – 2 Pizza slices, Juice box or mini water bottles for each child
ALSO INCLUDED:
Basic paper products: Plates, napkins, cups, cutlery, table cloths,
Utensils: Cake cutters & servers, chip & dip bowls, serving trays, ice buckets, drink openers
Rock Star decorations: birthday banners, mylar balloons, hanging instruments
Bring Your Own: Apps/Snacks/Cake/Drinks for adults or let us handle it as an add-on
Water fountain for kids, Coffee & Tea for adults
Rock Star photo and selfie backdrop
Personalized music playlist
We have most everything you need to throw an unforgettable party!
CLUBHOUSE ROCK STAR PARTY & PLAY
Party begins, kids play in our play area while guests arrive.
We invite the kids into the music room for a birthday concert.
After the concert, we go to the party room for food and cake.
90 minutes $475
120 minutes $575
150 minutes $675
12 kids included
Each additional rocker over 1 year: $10
Max 25 kids for the best party experience
DUO ROCK CONCERT PARTY & PLAY  
Clubhouse party with Chris & Jessie performing their popular interactive show with microphones, electric guitars, lights, streamers and banners in a special Pop-Up concert just like on their LittleRockers Clubhouse web-series from YouTube
90 mins $575
120 mins $675
16 kids included
Each additional rocker over 1 year: $10
Max 25 kids for the best party experience
KARAOKE DANCE PARTY & PLAY
Clubhouse party & play with Interactive Karaoke Dance Party. Lead by an expert Teaching Artist to guide the kids through the songs and giving everyone a chance to pick their favorite tunes to belt out with their friends!
90 mins $550
120 mins $650
6 – 12 years recommended
12 kids included
Each additional rocker: $10
Max 25 kids for the best party experience
The Karaoke Dance Party gets everyone singing with real microphones and dancing with props like boas, streamers, wigs, glasses and glow sticks.
Make & Take Craft: Kids design their own backstage passes with photos or rock star picture frames for proof that they really rocked!
ROCK STAR/KARAOKE COMBO PARTY & PLAY
2 hour+ party with two kinds of music activity for large groups with older and younger kids
120 mins $675
150 mins $775
Up to 25 kids included 1 – 12 years
Clubhouse party & play with:
30 minute music class for 1-6 years
30 minute Karaoke Dance Party for 6-12 years