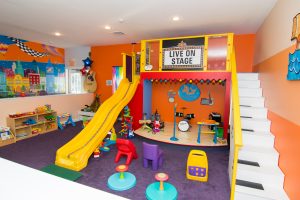 YOU COME TO US:
LITTLE ROCKERS CLUBHOUSE PARTY & PLAY in Shrewsbury, NJ
Want to throw an unforgettable party? We've got you covered!
A Little Rockers Clubhouse Party & Play is a cool and totally rockin' way to celebrate a birthday. For all our parties, the kids get to play in our unique music themed play area and participate in an interactive birthday concert.All indoor parties have a maximum of about 50 persons. Up to about 15-20 children, if both parents will be attending. If the children are 4 years or older they can be dropped off without a guardian present for the party, like at school.
The party run-down: As the children arrive they go into our music themed play area with our awesome slide and stage. After about 30 minutes we make a musical craft. Then it's time for the interactive birthday concert! We do music for 30 to 40 minutes and then we sing Happy Birthday for a rockin ending to a great party!
We do not do a standard food service, but you are welcome to provide a platter of sandwiches, pastry or small snacks for your guests and cupcakes for the kids after we sing Happy BIrthday, toward the end of the event.
Our Clubhouse Parties are described as "Party Dessert Theater" with the focus on the kids playing, crafting and doing music with a snack at the end rather than a traditional style event with food service. With that in mind, we suggest planning your party outside of meal times: Before or after lunch, mid afternoon or before dinner time so guests do not expect to eat a meal.
We do it all for you: We set-up, decorate, entertain the kids with play, crafts and music activities and keep a great flow going the whole time. And best of all, no clean up for you! Seriously, it's like having a party at home but you don't have to do ANYTHING except relax and enjoy your friends and family, guaranteed.
Suggested Party Times:
Saturdays – 12:30pm, 1:30, 3:00pm, 4:00pm
Sundays – 10:00am, 12:30pm, 2:00pm, 3:30pm
*Select a party option, start time and party length and you're on your way to a fun, stress free birthday celebration for your child in one of the coolest new party spaces around, The Little Rockers Clubhouse! 
ALL CLUBHOUSE PARTIES INCLUDE:
PRIVATE access to our play center for the entire time booked for you and your guests
PLAY-TIME in the Little Rockers Clubhouse with our one of a kind stage, loft and slide, interactive music toys, games and books
CRAFT-TIME – Kids will decorate their own back-stage pass or other instrument for the birthday concert. (90m and 120m parties only)
MUSIC-TIME – It's what we're all about! Our amazing Teaching Artists perform an interactive Birthday Concert or Karaoke Dance Party
Kids over 4.5 years may be dropped off for the party, like in school/day care.
ALSO INCLUDED:
Rock Star decorations: birthday banners, hanging instruments and other rock star decor
Rock Star photo and selfie backdrop
Paper Products: Napkins, Plates, Cups, Table Covers
We have most everything you need to throw an unforgettable party!
CLUBHOUSE ROCK STAR BIRTHDAY CONCERT
THE RUNDOWN: Party begins, kids play in our play area while all guests arrive.
After about 20-30 minutes of play, our teaching artists do a make & take craft with the kids then we invite them into the music room for a birthday concert or karaoke dance party
ROCK STAR CONCERT: Like in our music classes, one or two Little Rockers Teaching Artists will lead the kids in musical activities. The Birthday Band will jam out on guitars, shakers, drums and other age appropriate instruments, then end the show with a Happy Birthday jam session free for all .
60 minute party: $375 – 20m Playtime and 20m Birthday Concert or Dance Party, 20m Cupcakes
90 minute party: $475 – 30m Playtime, 15m Directed Music Craft,  30m Birthday Concert or Dance Party , 15m CafeTime for cupcakes/play/wrap up
120 minute party: $575 – 30m Playtime, 15m Directed Music Craft,  45m Birthday Concert or Dance Party , 30m CafeTime for cupcakes/play/wrap up
(Timing is approximate, we may adapt the activity times based on the ages of the children)
SIZE: 15 kids + birthday child included
Up to 20 kids +$50, Up to 25 kids +$75
___________________________________
KARAOKE DANCE PARTY: Kids pick from a list of Pop and Dance favorites old and new to create their unique playlist. Then they sing along karaoke style, dancing around with props, costumes and some instruments.
90 minute party: $600 – 20m Playtime, 15m Directed Music Craft,  40m Karaoke Dance Party , 15m CafeTime for cupcakes/play/wrap up. Up to 20 kids included, ages 6-9yrs recommended and kids can be dropped off.
____________________________________________________
ADD ONS:
INDOOR BOUNCE HOUSE – For groups with mixed ages of 4 years and up, add on an indoor bounce house for $50