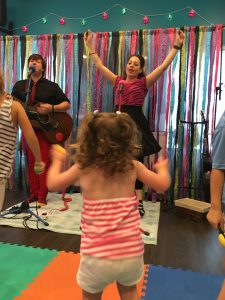 WE COME TO YOU – 2
ROCK & RAVE DELUXE COMBO PARTIES
Let us be your DJ, Emcee & Party Band!
Upgrade your Little Rockers party experience with more music and kid's activities.
If you were planning to hire a DJ, or just want to have great music and fun the whole time, let us handle the whole thing for one cost.
This is a terrific party option for events in a banquet hall, private facility or a back yard party where you are there for several hours and want music and kid's activities the whole time.  We will also work with any other vendors you hire (Face Painter, Balloon Maker, etc) to make it a seamless and amazing experience as we MC the event and hype the kids and crowd with popular Rock, Pop and Dance music. Then we'll get everyone rocking out with a Little Rockers music class or rock concert.
PARTY A: 1.5 hours – 20m DJ music/games, 50m music class, 20m dance party/games
With Music Class up to 25 kids

 

– $600
With Duo Concert up to 50 kids

 

–

 

$900
PARTY B: 2 hours. 40m DJ music/games, 50m music class, 30m dance party/games
With Music Class up to 25 kids – $750
With Duo Concert up to 50 kids –

 

$1050
PARTY C: 3 hours. 40m DJ music/games, 40m music class, 30m DJ playlist/games, 40m music class, 30m dance party/games –
With Music Class up to 25 kids – $1050
With Duo Concert up to 50 kids –

 

$1350
PARTY D: 4 hours. 60m Cocktail hour music/games, 40m music class, 40m DJ playlist/games, 40m music class, 60m dance party/games
With Music Class up to 25 kids – $1300
With Duo Concert up to 50 kids –

 

$1650
_____________________________________________________
*Any party can be tailored to fit your specific needs
**Additional travel fee for parties outside Monmouth County, NJ covers gas, tolls, parking and mileage