We get asked all the time for suggestions on the best guitars for kids. Especially once a child gets older and can start taking lessons, around age 4 or 5. We do have our favorite guitars that work for little hands and have put them in a list for you here.
Remember that when buying a guitar for a child under age 7, buy something that fits them so they will enjoy it. Buying a guitar that is too big for them, so they can grow into it, will only leave the child frustrated and not wanting to play. Go into the thought that buying a guitar for a small child is just a starter guitar and they will move into a larger guitar as they grow and gain more interest and skill.
We also get asked what guitar is great for toddlers from age 2 and up, and although there are a ton of toy guitars on the market, they usually do not have real strings. If you do not want real strings on your child's guitar then the smaller toy guitars are great. However, we are focusing on stringed guitars right now and the best ones for young kids between the ages of 2- 7 years old.
First Act are the main producers of kids guitars and they can be found in major retailers as well as online. This is a great starter guitar and they even come in a variety of styles and colors. Getting a starter pack with a strap and case are important for ease of use and transport. This is probably our most recommended because they are made well and sound good for the price. They stay in tune and are kid friendly. They are also easy to restring which is great for a beginning guitar student. Good for ages 4 and up. Perfect for beginning lessons.
Although this guitar has strings on it, they do not stay in tune and it is really just one step up from being a toy guitar. This is a good guitar for toddlers who are into the guitar and know what strings are and will not settle for anything less! Lol! For the price, it is perfect for little hands and a good buy for kids who aren't yet old enough for real guitar lessons.
Smart X Choices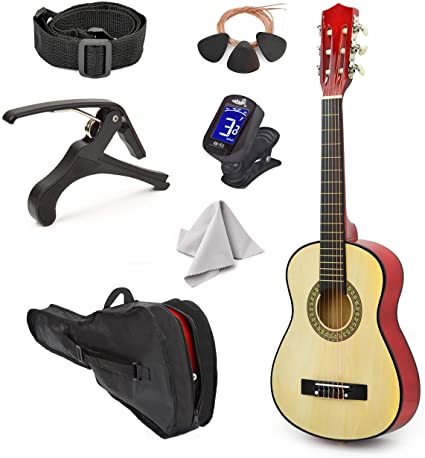 Not a bad option for ages 5 and up. A great choice and also comes with a bag and extra strings as a an option for a set. This would work well for the beginning child lesson.
Master Play- Left Handed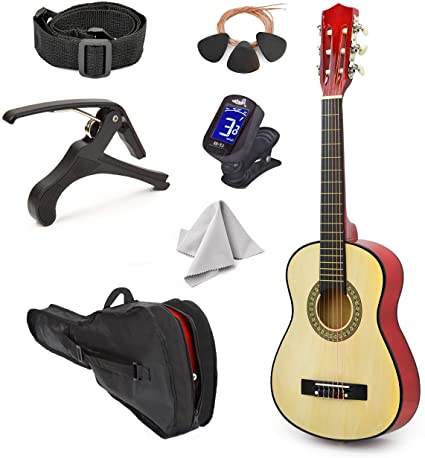 This one is amazing because it comes for LEFT HANDED kid players! how great and unique is that. We have switched over many strings for lefty kids and now they have an affordable guitar that's just their size. How perfect!
Pyle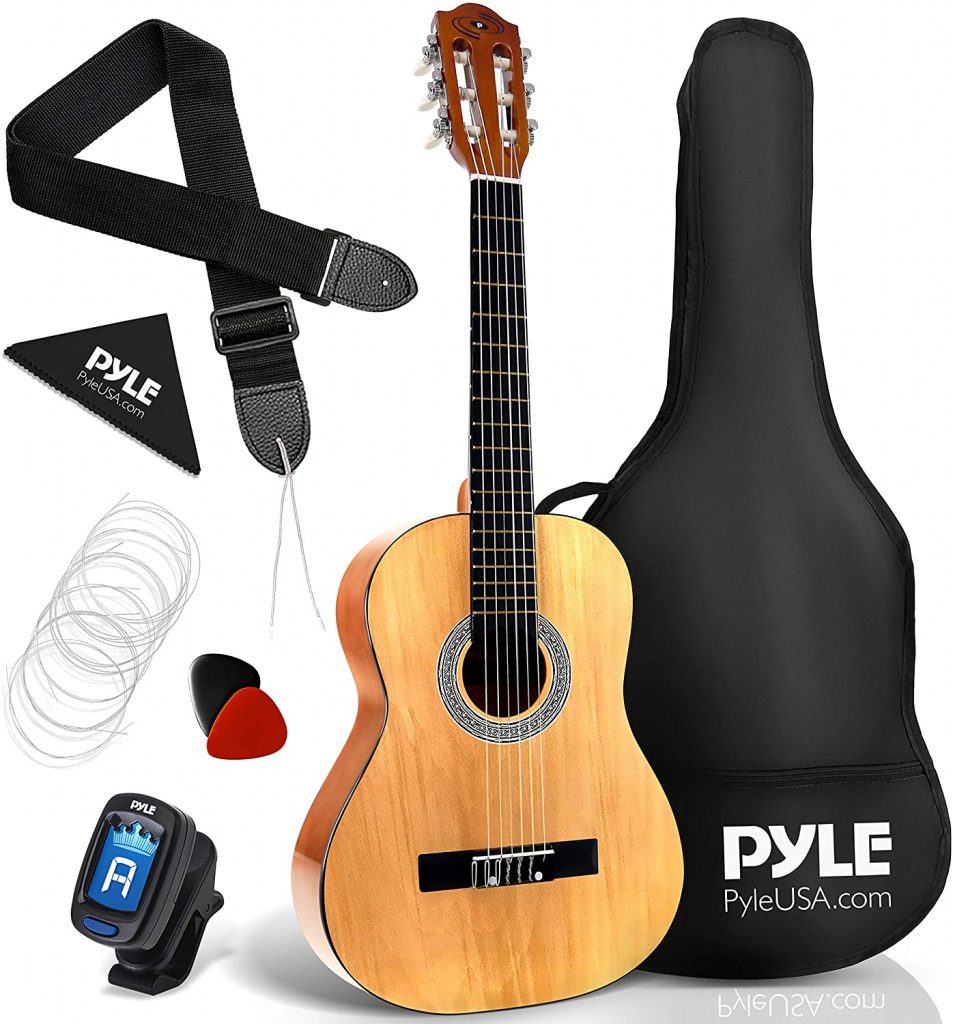 On the higher end of price, this also comes as a great set with strings, a bag and a strap. Although, it has trouble staying in tune if you work with the strings, or replace them, it will warm up. This is a decent inexpensive guitar for kids under age 10.
Loog

This is a very special guitar and actually quite amazing for kids under age 5. It gives kids age 3 and up, a chance to really learn how to play, as it only has three strings. It's a real wood guitar with perfect intonation, low string action and classical nylon strings. It even includes flashcards with chord diagrams and full access to the Loog Guitar app (iOS and Android)
This is a great starter guitar for preschoolers who aren't taking lessons yet but who have the ability and interest in learning more about really playing the guitar. Also comes electric.